A terrific new HD camcorder with a 22x zoom that shoots broadcast-approved codecs at 50Mb/s and 100Mb/s. Plus, it's crammed full of Panasonic's new technology - wireless connectivity, cloud interchange, dual slot recording, microP2, proxy creation, LTE transmission and much more.
"...PX270 delivers. It was a delight to shoot and a worthy compact yet powerful tool. Small gripes aside, Panasonic has a winner on its hands that in turn will allow the success of its end users." creativeplanetnetwork.com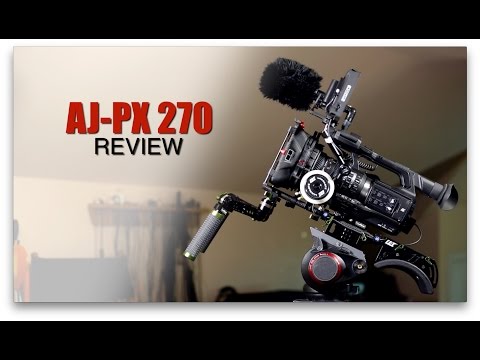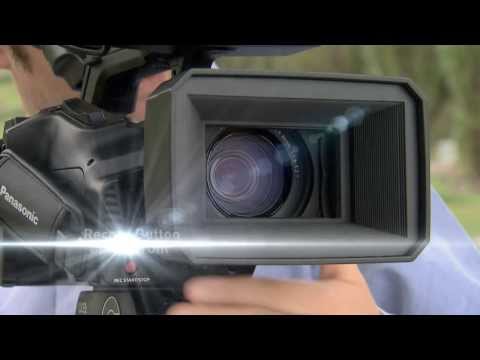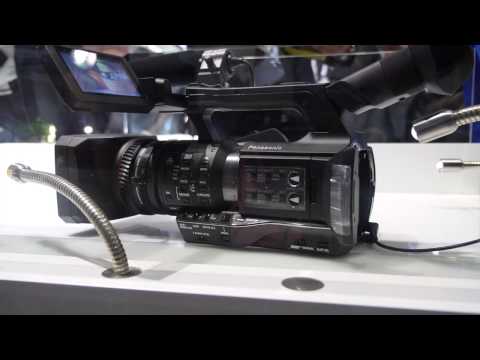 Panasonic @ IBC 2013
From the Panasonic Stand at IBC 2013, Rob Tarrant introduces the new AG-AC8 AVCCAM camera, AJ-PX270 P2 HD, AJ-PX5000 shoulder mount camera and the BT-4LH310 4K LCD Production Monitor
P2 HD handheld camera recorder with integrated AVC-ULTRA recording
25, 50 and 100Mb/s 4:2:2 10-bit recording with 200Mb/s option
Revolutionary AVC-LongG at 50Mb/s, 25Mb/s or 12Mb/s
22x Zoom Lens and 3MOS Image Sensors
Two microP2 Card Slots
Warranty information available here
New Update - Now records broadcast codecs onto fast SD Cards
A new update lets you to use fast SD Cards to record AVC-Intra200 and AVC-Intra100 broadcast codecs. Although these cards are not guaranteed to be as reliable as the Micro P2 Cards the new V60 and V90 rated cards with their high consistent write speeds will be reliable in the field.
Technology Guides
The AJ-PX270 is a P2 HD handheld camera recorder with integrated AVC-ULTRA recording that offers a wide range of choice between recording bit rates.

The handheld features two built-in microP2 card slots with simultaneous recording functionality, a newly designed multipurpose compact zoom lens and wireless workflow options.

The AJ-PX270 covers both low-bit rate and high-bit rate recording thanks to its inherent support for the AVC-ULTRA codec family. In addition to the established AVC-Intra100, the camera has AVC-LongG, which is designed for applications where file size is critical and enables long recording times. With the AVC-LongG codec, it becomes possible to record four times longer than with AVC-Intra100 on the same memory space thanks to the smaller file size. AVC-LongG enables long 1920x1080 10bit 4:2:2 broadcast quality recording, which is supported by the camera's newly developed high-sensitivity and low-noise 1/3 type 3MOS sensors. Furthermore, the handheld optionally supports AVC-Intra200 that enables master level recording.

Two built-in microP2 card slots offer ultimate low cost operation. Panasonic microP2 card technology features the same reliability of P2 cards and can be used without an adapter in the AJ-PX270. Simultaneous recording to the two memory cards is also possible for backup purposes. The PX270s newly designed built-in compact 22x zoom lens covers a broad range of shooting angles from 28mm wide to 616mm tele. The lens' three rings (Cam-type zoom, Focus, Iris) offer the comfortable manual control experienced with exchangeable lenses, but without the need for actual lens changes.

The camera recorder features a Wireless LAN function via an optional Wireless LAN dongle and supports the existing Panasonic live uplink solutions. Dongle support for wireless workflow over a mobile 3G/4G/LTE network is also scheduled for the near future. Thanks to these wireless features, users of the AJ-PX270 can easily uplink low-bit rate proxy data and full quality broadcast content. The handheld camera's network function makes the production workflow more efficient and accelerates the broadcasting workflow from shooting to on-air.
Ver 36.51
New Features
Main-line recording onto an SDXC/SDHC memory card available on the market, which is supposed to be for use in an urgent situation, has so far been restricted to the codecs at 50Mbps or less. But, to meet the users' demand, this restriction is removed.
However, that is not to guarantee the recording and playback operations with SDXC/SDHC memory cards.
Tally control from external devices (e.g. AK-HRP200 ROP) is supported.
No menus are newly added. This feature works according to the current Tally menu.
TALLY_LAMP (IP communication supported)
The following dongle are supported.
WLAN :D-Link DWA-171(Australia) , LTE :Verizon USB730L (US)
Only for China model, the internal processing of ATW function is changed at customers' request. AJ-PX298MC, AJ-PX285MC
Improvement
The related menus are not displayed so that microP2 B cards are not CPS-formatted by mistake.
The cameras are designed to start installing the firmware update immediately after it is downloaded via P2 Cast, and an improvement is made to this current design. Menu item "Download Only" is added. This menu item can temporarily end the update process once the download is complete when the update command is received from P2 Cast.
In UDP transmission, the communication process of streaming format is improved.
P2 SS becomes unable to be connected, and this problem is fixed.
Improvement in stability at boot-up
System error may occur on rare occasions under the specific conditions, and this problem is fixed.
---
Ver 36.18
Improvement
The firmware version 36.16 released on April 25 had an error.
If a clip is copied using the camera, E-36 system error occurs. It was corrected.
---
Ver 36.16
New Features
P2 Cast additional features support

Capability to send Proxy to a server with a specified address
The camera receives the location information transmitted via P2 Cast from a mobile phone.

Information about a bonding device such as the state of communication, battery remaining capacity, etc. can be displayed on the camera. This function is extended so that the information can be obtained via Live-U central server. Network Profile data is used for this operation, so the P2 Network Setting Software is changed so that the data can be edited.
Additional LTE dongle support
MF825C (China only) PIXELA PIX-MT100 (Japan only)
Additional WLAN dongle support
AJ-WM50MC (China only) PLANEX GW-900D (Japan only)
Improvement
The indicator for remaining card capacity is corrected because it has a problem when the format is AVC-G50/24PN, AVC-G25/24PN or AVC-G12/24PN.

Symptom

For example:Indication of capacity in AVC-G50/24PN
False: 178 min / True: 145 min
Incorrectly indicated remaining capacity on the screen or at PROPERTY
A card with little capacity left, normally an un-recordable card, is mistaken as recordable.

The camera cannot be connected with the wireless router by DHCP. This problem is fixed.
Download the latest Firmware and Software
The addition of the high-quality AVC-Intra Class200 codec* (10bit, 4:2:2, bitrate approx 200Mbps) enables visually lossless recording at twice the bit rate of AVC-Intra Class100, delivering studio master quality for recording network-level programming and archiving.
Brighton local TV selects Panasonic
Sunset+Vine, an in-house production partner for BT Sport, is the first UK broadcast company to invest in the latest range of Panasonic ENG and handheld cameras.
Featuring broadcast HD 4:2:2 codecs from 25 to 200Mb/s, Panasonic's new microP2 10-bit camcorders will be shown for the first in the UK at BVE 2014. Demonstrated by European distributor Holdan, the AJ-PX270 and AJ-PX5000 bring together all the leading strands in television technology including proxy recording, wireless production, cloud integration, availability for studio or field use and adoption of new low-cost yet robust recording cards.