This production system integrates all the key components for live TV, video and AV programmes. This includes source switching, vision mixing, crew comms, tally lights and the ability to feed live graphics and titles from any HDMI-enabled laptop.
Small, portable and rugged, it's a design that's very well thought out for mobile production units.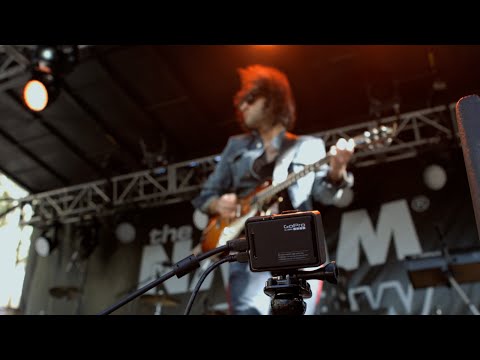 Datavideo HS-2200 and GoPro: 26 Bands Live at NAMM 2015
The GoPro Event Stage at the 2015 NAMM Show had over 26 bands perform live over 4 days. Datavideo live production equipment helped bring 10 GoPro Hero 4 cameras live to tens of thousands through a live stream, big screens around the stage and many more through the recording.
6 input HD broadcast quality Mobile Switcher
Ideal for live production venues, religious worship, meetings or conference purposes
Inputs: 6 x HD-SDI, 2 x HDMI (CH 5 & 6)
Dual PIP and a built-in title creator system that works with Datavideo CG systems, PowerPoint and other graphics programmes
Built in 8 Channel Intercom/Talkback system (4 x belt packs supplied)
17.3" HD LCD monitor
Program and Preview on a multi-view screen
HS-2200 combines SE-2200 with a 17.3" HD LCD monitor and an 8 channel talkback/tally system.

Packed into a durable case, HS-2200 is a convenient and powerful portable video studio. HS-2200 includes a built-in monitor for displaying all incoming input video sources as well as program and preview with tally indicator, on a single multi-view screen.

The HS-2200 also feature an 8-channel intercom system complete with tally lights, belt packs and headset (supplied with four cameraman belt packs & four 20m cables included).
Download the latest Firmware and Software
1 x HS-2200
1 x AD Switch DC 12V with AC Cord
1 x CB-41 / XLR to XLR Cable
4 x CB-3 / XLR cable
1 x CG-200 Utility CD w/ CD Bag
1 x USB Light
1 x Goose neck MIC
4 x Headphone Microphone
4 x ITC-100SL
1 x Tally light
4 x Velcro