The C2-2855 is a high-end video processor which offers bi-directional conversion and scaling from a range of analog & digital sources. Its PIP functionality, its ability to be controlled by an iPad / tablet and its extensive I/O marks it as a very impressive product.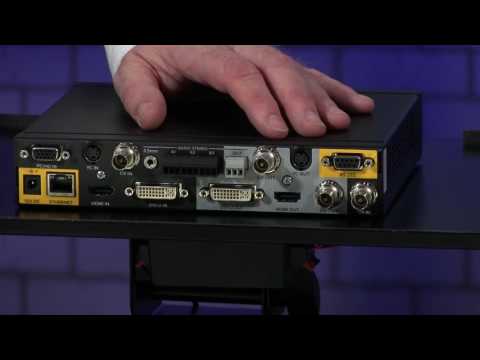 Up/Down/Cross Conversion
Digital Inputs: SD/HD/3G-SDI, DVI-U*, HDMI (DVI 1.0, HDCP 1.4)
Analogue Inputs: YUV/YPbPr, RGB/YPbPr, CV, YC
Digital Outputs: SD/HD/3G-SDI, DVI-U*, HDMI (DVI 1.0, HDCP 1.4)
Analogue Outputs: DVI-U* (RGB/YPbPr/YUV), CV, YC
Analogue: PC to 1920x1080, HDTV to 1080p/60
HDMI & DVI : PC to 1920x1200, HDTV to 1080p/60
Supports: NTSC, PAL, PAL-M, PAL-N
Motion Compensation & 3:2 Pulldown
Temporal Interpolation & Diagonal Interpolation
Auto detection and device switching
Automatic Incoming Resolution Detection
AutoSet - Automatic picture sizing of PC inputs
4:4:4 Full bandwidth Chroma Sampling for RGB sources. 4:2:2 for SDI, YC and CV sources. HDMI YUV support for either 4:4:4 or 4:2:2 sampling
Video signal parameter adjustments
* DVI-U, is a tvONE proprietary interface. It is fully DVI-I compliant and offers analogue (YC, CV, RGB &YPbPr) &HDMI connectivity in addition to DVI-I, via a range of low-cost dongles.
C2-2855 Universal Scaler PLUS is first in a new generation of high performance scalers that provides best-in-class video scaling and format conversion along with revolutionary, intuitive user interface tools. The crystal clear OLED display intuitively guides users through setup and control using colour-modulated, backlit buttons.
Alternatively, a graphic user interface for computer or tablet can be used to set up and control the unit remotely via IP. RS232 is also provided as a direct control interface for 3rd party control systems. The video performance of the C2-2855 is based on tvONE's exclusive CORIO®2 technology, which provides high quality bi-directional conversion and switching between a wide variety of analog and digital video formats. Living up to its designation as a "Universal Scaler" the C2-2855 supports SD/HD/3G-SDI, HDMI, DVI, Composite Video, YC, YUV, YPbPr or RGB, on both inputs and outputs, and the signal parameters of the incoming video may be adjusted. The high resolution RGB/YPbPr output is selectable at virtually any PC or HDTV resolution and NTSC, PAL, PAL-M, and PAL-N standards are all supported. Crisp, clear images are ensured by a high sampling rate and advanced Digital Flicker Elimination circuitry on CV & YC outputs, while full bandwidth chroma sampling ensures faithfully reproduced, high resolution colours. Motion compensation, diagonal interpolation and a 3:2 Pull-down feature provide for the best possible NTSC image quality, while temporal interpolation refines frame-rate conversion by merging successive frames.
Auto Switching
The auto-switching function turns the C2-2x55 scaler series into powerful standalone devices. It allows users the ability to connect their source and have it automatically displayed on a screen without having to press any buttons. The incoming resolution is quickly detected and analyzed meaning within a few seconds the user is up and running and ready to present.
This function is particularly useful in situations where there is no control system or technical supervision such as in meeting rooms, medical environments, teaching spaces or live staging events.
Settings
Designed for commercial 24/7/365 use, the C2-2855 automatically stores all settings in non-volatile memory for automatic restoration of the most recent settings even when power is switched off. Twelve user-defined presets are readily available for instant, on-the-fly adjustment to diverse customized applications.
tvONE's AutoSet feature automatically sizes and positions computer images to fit exactly on the video display, and the 10X Variable Zoom can enlarge and position any part of an input to fill the entire video output display. Variable Shrink with as much as 90% size reduction allows almost any image to fit on the tiniest screen.
Advanced Features
Keying allows one input to be keyed over a second input. The keyed image may be faded in and out. Precise keying at the pixel level is possible due to 4:4:4 sampling format for RGB sources. Transitions permit Seamless Cut, Fade or Wipe transitions when switching between input sources. Picture-In-Picture (PIP) functionality allows an input to be inset in a window over a second input or vice versa, and the PIP window may be placed anywhere on the screen. Genlock ensures precise synchronization of the incoming signals.
Audio - Integral Stereo Audio switching is provided by an integral 4x1 audio routing switcher. The four impedance-independent unbalanced inputs follow the video input selection. A rear panel terminal block and a 3.5mm jack-socket provides access.
Embedded Audio Support allows any audio input to be embedded on all outputs which support embedded audio data (HDMI/DVI-U/SDI). The unit is housed in a desktop case and can be rack-mounted with an optional 19-inch rackmount kit that holds one or two units.
Firmware Version 541
Defects Resolved
Fixed unit's HDMI sink EDID to pass the HDMI 1.4B Compliance tests
Fixed unit's HDMI sink EDID to advertise Native resolution as 1080P60 instead of 1920x1200
Fixed analogue RGB output sync timing issue which had a 9 pixel error at 1080P60
Pixel perfect PIP placement did not behave as expected when changing between resolutions
API version number was getting corrupted to zero
Fixed issue where Calibrate did not always correctly identify the edge of analogue inputs
Temporal Interpolation is now disabled when the Primary layer is a Still preventing Still corruption
Fixed issue where SD-SDI could not be Genlocked to successfully
Fixed issue when Genlocking to a CV source
Fixed issues where framelock did not correctly lock to a source
Fixed issue where firmware updated timed out partway through updating
Fixed menu corruption in the 'Setup -> Layers -> Background -> View -> Hidden' menu
Fixed issue where 'Setup -> Layers -> Background -> View -> Hidden -> Framelock/Genlock' was not stored by 'Save Settings'
Fixed issue where changing the unit IP settings via CORIOcontrol caused the unit get into an infinite loop
Fixed issue where 4th channel of HDMI audio input had a higher volume
New Features
Auto Switch feature added, which automatically scans through all video input connectors to find a valid Primary layer source
New 'Shortcuts' option added the 'Setup -> System -> Navigation -> Startup Menu'
Improved compatibility with HDMI extenders to allow for longer EDID/HDCP negotiation
API support added for preset, logo, still and panel lock/unlock events
Added an acknowledgement message when EDIDs are captured from sinks connected to the output connectors
Added audio fading during transitions
Download the latest Firmware and Software
1 x C2-2855
1 x Operations Manual on USB stick
1 x PC Control Software (Microsoft Vista SP2 and above)
1 x Quick Start Guide
1 x Universal Power Supply ('brick' type)
1 x Regional Power Cable
tvONE Showcases new Auto-Switching feature for C2-2855 Universal Scaler
New CORIOcontrol software is now available for the C2-2x55 series, which encompasses the C2-2855 Universal Scaler, the C2-2755 Video Scaler and the C2-2655 Scan Converter.
TVOne's flexible, new Corio2 C2-2855 Universal Scaler is proving very popular.
Why?
tvONE will be showing a full range of industry-leading video conversion and distribution products in Hall 4, Stand R62, during ISE 2014, 4-6 February, Amsterdam RAI. Highlights include several important innovations such as the CORIOmaster mini all-in-one video wall processor, new CORIOgrapher video wall software and the recently launched CORIO®2 Universal Scaler.