"These monitors share a lot in common with the others in the series, including both HDMI/SDI input and output. The 13″ HDR version has all of the newest tech inside, including a 1500 nit display with P3 color. Viewing angle is also tremendous, so these monitors will do well when you're on location, and you want something that's not too big or too small."

Newsshooter Report, Autumn 2016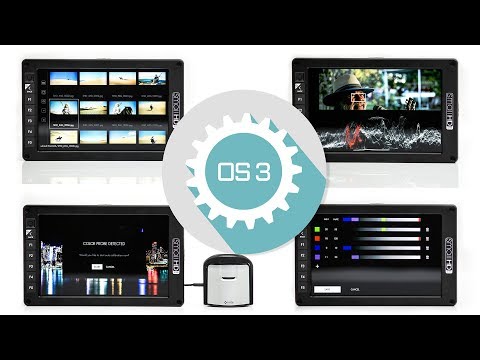 SmallHD OS3 - Our Biggest Firmware Update Ever!
OS3 has something to offer for every filmmaker. The free downloadable update comes with a host of new features for all current SmallHD on-camera and production monitors (FOCUS, 500 Series, 700 Series, UltraBrights, 1300 Series, 1700 Series, 2400 Series, and 3200 Series)
Full HD 13-inch LCD Monitor with 1500 NITs Brightness
13" 1920x1080 display
10-bit IPS LCD panels
ColorFlow 3D LUT processing
Page Builder OS
RapidRail Mounting System
Aluminum chassis
Specs
Panel Type: IPS
Size Diagonal: 13
Resolution: 1920x1080
Pixel Density (PPI): 170 PPI
Aspect Ratio: 16:9
Active Area: 15(W) x 8.42(H)
Brightness: 1500 nits
Color Gamut: 100% Rec.709
Color Depth: 10­ bit
Viewing Angle: 178 Deg.
Backlight Type: LED
Adjustable Backlight: Yes
Temperature Adaptive Color: No
Connections
SDI: 2x 3G Inputs, 2x 3G Outputs
HDMI: 1x Input, 1x Output
Audio: 1x Headphone Jack on Front of Monitor
Power In: 1x XLR 4­pin Input 12­-34VDC, 1x power Output 12VDC @ 4A Max
Power Out: 1x XLR 4­pin Input 12­-34VDC, 1x power Output 12VDC @ 4A Max
USB: 1x Front USB2, 2x Rear USB2
Technology Guides
Clarity that produces certainty
The display size, resolution, and pixel density of the 1303 production monitor make it an invaluable tool for precision focus pulling. When you don't have the time or proper measurements, a razor-sharp, low latency display will help you hit your marks.
Calibrated for collaboration
Preview what you're sending downstream using the Output Preview Page, while utilizing software features like customizable focus assist and peaking on your 1303 monitor. If it's the only monitor near by, its colour accuracy (100% REC 709) and broad viewing angle make it easy to share with clients and directors.
Can you see me now? Good
With a panel roughly 3x brighter than most production monitors, the 1303 is not restrained by ambient light. Its optically bonded LCD combats glare and sunlight, allowing you to pull focus in less than ideal shooting environments.
Proper power options
Power options for the 1303 monitor are simple and convenient. The 2-pin power out allows for a seamless integration with accessories such as the Teradek Bolt wireless receiver.
Travel made easy: carry-on accessories
All SmallHD® production monitors are equipped with the Rapid Rail Mounting System; the simplest way to connect, store, and travel with critical monitor accessories.
Smooth is fast
Transitioning from table to C-Stand happens safely and securely with the 1303's VESA compatible mounting accessory.
Boldly go
The 1303 monitor is the perfect blend of functionality and portability. With a razor-sharp display and a rugged build quality, the 1303 will boldly go where no other production monitor has ever gone before.
Firmware Update 1.4 for SmallHD Production Monitors
Features Added
RGB Offsets have been added to the appearance menu for custom color adjustment.
Added support for RED's new IPP2 workflow: Input color space list now includes REDWideGamut/LOG3G10 (also removed the deprecated LOG3G12 gamma).
Improvements
Color space options in the menu are renamed for clarity. The name now indicates both the expected gamma and gamut.
Adjustable Studio Brightness range has been increased.
Bug Fixes
Fixed a bug causing some 17" monitor's screens to go black during a user upgrade.
Fixed a bug with the waveform's spot meter.
---
Firmware Update 1.3 for SmallHD Production Monitors
Features Added:
De-Interlacer is now supported in all SmallHD production monitors.
The 1303HDR now supports Studio Mode, our 100 nit mode for studio environments
V-Log and S-Log 3 DeLOG and HDR Preview support now available
A "Color Picker" tool has been added to the toolbar. This allows you to display video color values of a selected pixel.
Improvements
Multi-view has been simplified to Dual-View.
Repeatedly pressing the input button will now cycle through all available inputs.
Bug Fixes
Fixed a bug that occasionally caused Vectorscope to crash.
Fixed a bug causing transient data to not display properly when "no correction" is set in the Input menu, even if a log format is not the chosen gamma.
Fixed a bug causing the Multi-view/Dual-view to occasionally show valid inputs as a black image.
Fixed a bug that occasionally caused some colors to be rendered incorrectly when the input format changes
Toggling "ignore look" on a scope while there is no active look on the current page will no longer result in a change to the scope data.
Fixed a bug that sometimes caused a page to continue displaying Brightness & Contrast adjustments made within the "Focus Assist" & "Peaking" tools, even after these tools were disabled.
---
Firmware Update 1.0 for SmallHD Production Monitors
Features Added:
Enhanced Input Menu:

Each input type (HDMI, SDI1, SDI2) can be configured to support different incoming gamma formats.

HDR Preview Setting (HDR Models Only)

Enable with any SmallHD supported log format (HDR models only)
Histogram added to help users judge incoming data & make gamma decisions
List of recognized input color spaces:

HDR Monitors Only

BT 2020/2084/2100: Uses a 2020 gamut and the 2084 PQ EOTF
HLG

All Production Monitor Models

REC 709 (with various gamma options)
SLOG
SLOG2
CLOG
LOGC
RedLogFilm

Improved log correction from the above formats

New "Appearance" menu which provides controls for the following

The Appearance menu is not affected by the "disable calibration" button on the calibration page

Sharpness: Increase or decrease the edge contrast of the image
Contrast-Increase or decrease the separation between dark and bright levels of the image
Brightness: Adjusts the black levels of the monitor
Gamma Shift: Adjust image gamma curve with a new slider.
RGB Gain: Used to adjust the red, blue, and green balance in the image.
OLED Gamma Match: Changes monitor gamma to resemble an OLED display
The Appearance menu is not affected by the "disable calibration" button on the calibration page

Added Backlight Settings

Studio Brightness: 100 nit studio mode for true Rec.709 representation on all* production monitors
Standard Range: Factory calibrated range of brightnesses
Max Brightness: Uncalibrated maximum brightness

USB Support Added

USB ports are now activated, and can be used to power accessories – Outputs 5v through each port 1.5amp shared (total)"
USB flash drives may be used to load/save LUTs, Profiles, and Image Overlays

Crop Tool Added

Allows user to crop a region of the image and then blow that up to the full video area.

Image Flip Added

Flip the on-screen video signal and menu both horizontal and vertically

Horizontal
Vertical
Horizontal + Vertical
Menu Flip
Auto Flip

Multi View Page Enhancement

You can now select Dual input view or Quad input view for your multiview page. This is configurable in the monitor's settings menu.

Enhanced Focus Tools

Focus Assist and Focus Peaking tools now contain a Contrast & Brightness value which can be modified for each page. This will make your focus assist even easier to read when contrast is turned up and brightness is turned down.
Peak Thresh option has been added to Focus Assist tool, this allows you to have increased control in your Focus Assist

Image Scale tool name has changed to Image Location
Download the latest Firmware and Software
1 x 1303 HDR
1 x 36" HDMI Cable (CBL-SGL-HDMI-HDMI-36)
1 x Mains Power Cord