A very high quality tool with a strong ergonomic control panel. Zoom, iris and focus control, plus PTZ control over scores of remote cameras, makes RP120 a powerful contender. It's smooth, versatile and gives users full painting management with multiple presets for each camera.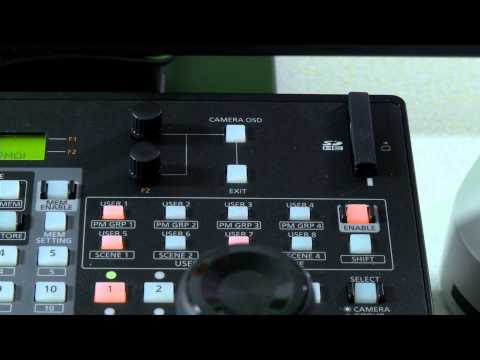 Panasonic AW-RP120
The AW-RP120 full-size remote camera system controller has the capability to control cameras via both IP and serial connections to support the company's expanding line-up of remote camera systems.
Newly designed control panel
Smooth Pan/Tilt Control with new joystick
Preset / Tracing memory functions
Colour image adjustment function
Flexible System Design by using IP connection and control
Storage Setting to SD card
Please Note: The AW-RP120 is not supplied with a power adapter, which must be bought seperately.
The AW-RP120G Remote Camera Controller supports a variety of Panasonic remote camera systems. IP connection allows a large-scale, flexible, and simple system configuration for controlling up to 100 remote cameras and the simultaneous use of multiple controllers.

A new joystick enables high response pan and tilt operation and a newly designed control panel adds colour adjustment dials.

A preset memory with a new batch recall function and tracing memory save labour by allowing single-person operation.

Equipped with Paint and other camera adjustment functions, the AW-RP120G meets a wide range of high-end needs. It is the ideal all-in-one controller for many applications such as event, conference hall, public facility, wedding and broadcasting use.
Please Note: The AW-RP120 is not supplied with a power adapter, which must be bought seperately.
Version 3.02.00
New Features
REC control function over POVCAM (AG-UMR20/MDR25) is added.
"REC" is added to CAMERA > FUNCTION menu. The operation is controlled by selecting START/STOP.
REC-START/STOP is added to the USER button.
For details, please refer to the latest Operating Instructions.
---
Version 3.01.00
AK-UB300 camera's additional formats are supported.

PsF output in UHD mode (2160 /29.97PsF, /23.98PsF, /25PsF)
60P (2160/60p, 1080/60p, 720/60p)
1080i output in UHD_CROP mode (1080/59.94i, 1080/50i)

Another AK-UB300 feature assignable to the USER buttons is added.
Sensitivity (SHOOTING MD) /DRS/CROP OUT
Another controllable AK-UB300 feature is added.
Haze elimination (D.HAZE CLR)
It is made possible to set the setting for whether to enable or disable PAN/TILT, ZOOM and FOCUS operations during the execution of AWB or ABB.
---
Version 3.00.00
Controlling the following new products is made possible.

POVCAM(AG-UCK20 /UMR20, AG-MDC20 /MDR25)
AW-HR140

Controlling AK-UB300 Multi Purpose Camera through the pan-tilt head is made possible. AK-PH400,PH405 (Originally, the control of AK-UB300 camera was only allowed by the direct connection with it.)
---
Version 2.40.01
A Support for connection with AK-UB300 CAM Direct and IP Direct connection
Digest authentication for connection authentication function Digest authentication has been added to the connection authentication function, in addition to basic connection authentication. As with the basic connection authentication settings, this setting is made using the Setup Software.
Locking the control panel The control panel can be locked by setting a password.
---
Version 2.31.00
Support for AW-SF100 auto tracking software.
Download the latest Firmware and Software
1 x AW-RP120
1 x CD-ROM (Operating Instructions, Setup Software)