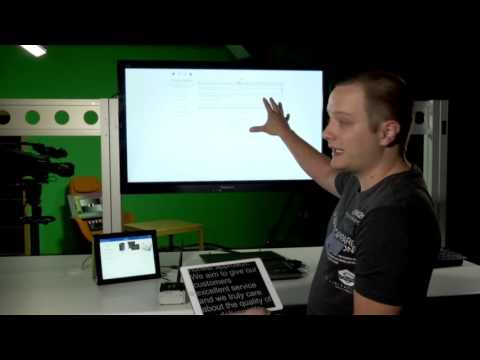 Multiple prompter screens kept in perfect sync
Remote control and scrip management over IP (WiFi/Ethernet)
IOS and Android Apps available
Compatible with any device that has an HTML5 compliant web browser
Embedded rich text editor
Control multiple prompters from one controller
Scripts are stored on the dv Prompter servers internal storage
Multiple users can collaborate to the scripts library over IP
Built in dual band WiFi
10/100Mbps Ethernet Port
Small form factor, rack mountable using RMK-2
12V DC input
How do you keep multiple teleprompters synchonized?
DVP-100 is the solution. It's a wireless teleprompting system compatible with Mac, PC, Android and iOS devices.

The dv Prompter Pro server creates its own WiFi hotspot ready for you to connect your devices and start prompting, once connected you can select if a device is to be a controller or a prompter screen and you can have an unlimited number of controllers or prompter screens.

The controller can create and load new scripts, control the scrolling and perform live edits on all prompter screens in real time.

All scripts are stored on the dvPrompter server not the devices themselves.
Download the latest Firmware and Software
1x DVP-100 Unit
1x AD Switch 12V
1x Antenna
Launching at BVE 2016 in London, DV Prompter Pro Server (DVP-100) is only the size and cost of a mini converter, yet it promises to bring multi-screen teleprompting to the masses.