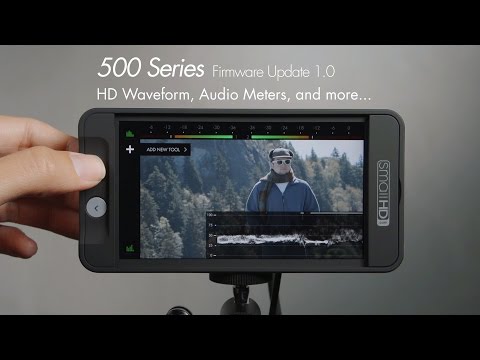 Sidefinder 501 Production Kit
Kit Includes:
1 x SHD-MON501 Monitor
1 x SHD-MON502SF Sidefinder
1 x Battery kit (2 x LP-E6 & 1 x Charger)
1 x Wireless Joystick Remote Control
1 x Universal Mounting Kit for Sidefinder
1 x 90cm HDMI-HDMI Cable
1 x 45cm Mini HDMI Cable
1 x 90 cm SDI cable (502 Moniter Kit Only)
1 x Anti-Glare Sreen Protector
1 x Neoprene Sleeve
1 x Hot Shoe Mount
1 x SD Card
1 x Waterproof Hard Case
2 x Cleaning Cloths
Monitor Specifications
Panel Type: LCD
Size Diagonal: 5
Resolution: 1920 x 1080
Pixel Density (PPI): 441
Aspect Ratio: 16:9 Native
Active Area: 5.0 in
Brightness: 400 cd/m2
Contrast: 1500:1
Colour Gamut: 85% NTSC (100% Rec 709)
Colour Depth: 24 Bit (8bpc)
Viewing Angle: Full 179 Degrees
Backlight Type: LED
Adjustable Backlight: Yes
Temperature Adaptive Colour: Yes
Viewfinder (EVF) Specifications
Resolution: 1366x768
Diopter Range: -2 to +4
Variable Field of View: 20-40 degrees
Height: 3" (7.62cm)
Width: 8.3" (21.08cm)
Depth: 3.7" (9.40cm)
Weight: 8oz (226.80g)
Construction Material: ABS and Aluminum
OS3
New to OS3
Auto-Calibration
Using the official SmallHD color probe, auto-calibration can be initiated simply by attaching the probe to the monitor via USB and letting the monitor do its thing. Watch our Auto-Calibration How-To Video
Customizeable False Color (Exposure Assist)
Creating a visual, data-driven exposure tool has never been this customizable. Create up to 10 different IRE ranges, with custom color assignments, and start using False Color exactly how you want to.
Spot Metering in LUMA Waveform
Adding to SmallHD's customizable Waveform tool is the ability to highlight and monitor critical areas of your image. Using a spot meter box with an adjustable size, the targeted area's data becomes easy to see on the Waveform.
Image Gallery Viewer
Screen captures and images loaded onto SmallHD monitors via SD card can now be accessed in an image gallery. Quickly glance at dozens of frame grabs from a day of shooting, and do so without being connected to your camera.
Adjustable White Point
We've added support for the following white points for the desired input space and monitor calibration: D65, DCI-P3, 3000K, 5000K, 5600K, 9300K.
SmallHD FOCUS now accepts 4K30
The SmallHD FOCUS monitor will now accept video signals up to 4K30 via HDMI. Shooters will see an improvement in image quality while shooting in 4K and using the Zoom feature to magnify their image.
---
Firmware Update 2.7
Bugs Fixed:
Fixed a specific camera incompatibility with Nikon D500 camera via HDMI
Minor improvements made to improve firmware stability
---
Firmware Update 2.6 for SmallHD 500 & 700 Series Monitors
Bugs Fixed:
Minor improvements made to improve firmware stability.
---
Firmware Update 2.5 for SmallHD 500 & 700 Series Monitors
Bugs Fixed:
Arri camera compatibility is now available. This was corrected with a more robust format handling to correct specific camera incompatibility.
---
500 & 700 Series with Firmware 2.4
CAUTION: DO NOT INSTALL ANY VERSION PRIOR TO v2.2 ON A 700 LITE SERIES MONITOR
Bugs Fixed:
Monitors displaying Update System Controller Firmware Status bar at boot time now boot correctly.
Any version of firmware prior to V2.4 will result in a monitor which displays the status bar again at boot.
Fixed Monitors with Joysticks that would not motion LEFT.
Download the latest Firmware and Software
1 x SHD-MON501 Monitor
1 x SHD-MON502SF Sidefinder
1 x Battery kit (2 x LP-E6 & 1 x Charger)
1 x Wireless Joystick Remote Control
1 x Universal Mounting Kit for Sidefinder
1 x 90cm HDMI-HDMI Cable
1 x 45cm Mini HDMI Cable
1 x 90 cm SDI cable (502 Moniter Kit Only)
1 x Anti-Glare Sreen Protector
1 x Neoprene Sleeve
1 x Hot Shoe Mount
1 x SD Card
1 x Waterproof Hard Case
2 x Cleaning Cloths
SmallHD finishes IBC with a special monitor promotion