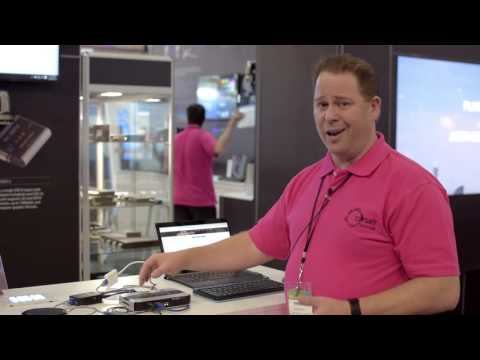 Dual Video Capture to USB 3.0
Line level stereo audio support
Predefined Picture in Picture (PIP) views
Digital Fluid technology - Internal frame buffers maximize frame rate with any PC
Hardware-based colour space and sampling conversion
Automatic scaling and frame rate conversion
Customizable video processing functions
Image controls: Brightness, contrast, saturation and hue settings
Supports multiple devices on the same PC
Compatible with Windows, Mac OSX and Linux
Technology Guides
The INOGENI SHARE 2 Converter is the most easy and reliable tool for simultaneous capture of two streams of uncompressed video into one single USB stream with audio from your HDMI/DVI/VGA or CVBS sources for your PC for recording, video conferencing, lecture capture and streaming applications. No driver installation is necessary and will work on all motherboards and USB 3.0 chipsets.
It features an HDMI, DVI, NTSC/PAL input, line level stereo analogue input, line level stereo analogue output, internal USB 3.0 hub with 2x USB 3.0 ports for expansion purposes and USB 3.0 connector for the host.
It supports SD / HDTV video formats up to 1080p60 and most computer graphic formats.
Compact in size and rugged, the converter is a practical easy-to-use USB 3.0 capture solution. Compatible with Windows, OSX, Linux operating systems, UVC-compliant so it will work with all DirectShow/V4L2 and AVFoundation compatible software.
The converter supports 1080p resolutions up to 60 fps. All SD / HD resolution signals are converted to 4:2:2 8-bit colour space over USB 3.0. The line level stereo analogue audio input and output are two-channel LPCM.
SHARE 2 comes with a USB 3.0 cable, DVI to VGA and DVI to HDMI adapters.
Compatible Software
Video Conferencing
Skype
Lync
Hangouts
Zoom
FaceTime
Vidyo
LiveCast
Jabber
BlueJeans
TeamViewer
Easymeeting
Connect
Polycom
Spontania
Webex
GoToMeeting
Recording
VLC
VirtualDub
VideoGlide
QuickTime
qV4L2
MEncoder
LUVCView
GUVCView
MATLAB
VIDBlaster
OBS
Elements
Debut
Camtasia
Wirecast
FFmpeg
ALE
gstreamer
Edius
ScreenFlow
LabVIEW
vMix
Dragonframe
Streaming
Youtube
vMix
xSplit
OBS
Wirecast
Livestream
USTREAM
Presentations 2Go
LiveCast
Facebook LIVE
stroom
Version 1.25
TCP communication on port 50000 is now supported.
---
Version 1.24
Added TCP support for sending commands through the LAN interface. The HTTP support is still available. See the user guide for more details on how to TCP communication
---
Version 1.23
Corrected issue with payload size on TCP request.
Download the latest Firmware and Software
Dual Video Capture to USB 3.0
USB 3.0 Cable
DVI to VGA adapter
DVI to HDMI adapter
User Guide
Holdan Limited has signed a Europe-wide distribution agreement with Inogeni, a Canadian manufacturer of USB video converters and processors. With the agreement, convergence between AV, IT and broadcast technology becomes a reality.